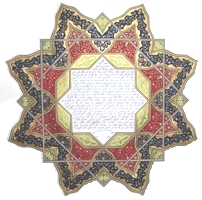 This is about the process of developing artwork for your ketubah.
By the time we get to this point, I assume you've taken a look at my portfolio and got a sense of my general style.
If there's something particular you like, tell me. Maybe you like the shape of this one, the colours in that one, the hard-to-define feel of that other one. Rachel and David liked this one.
Now what you do is send me some images which make you happy. If you can tell me what about them makes you happy, that's a bonus. If not, don't worry; part of my job is to figure that out.
At this point we talk about budget. I price text per word, so that if you have a long text it costs more and if you have a short text it costs less. Printing is also an option; a print text and custom artwork can work out cheaper, especially if you have a long text. Artwork costs depend mostly on size and complexity; most couples decide on a budget and we take it from there. Art borders run $200-$2000+.
You also tell me what sort of size you'd be happy with. Some people want their ketubah to be letter-size; some want it to be the main focus of a room.
All this tells me how complex your design can be, and I start to make sketches. Sometimes the sketches have several different options, and I get your feedback on them: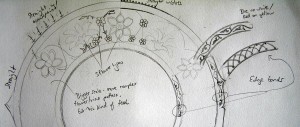 Finished result: