Sifrei Torah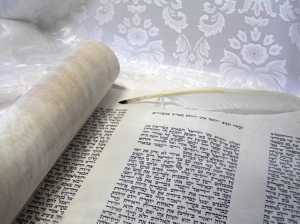 Sifrei Torah, or scrolls of the Torah, the Five Books of Moses, are among the most sacred items in Jewish tradition. Jews are known as the People of the Book, and for several thousand years they have transcribed the Book from scroll to scroll, for ritual use, study, and inspiration. They are read from in the synagogue on Sabbaths, festivals and certain weekdays; there is also a commandment for every Jew to write (or commission!) his own sefer Torah.
A sefer Torah is written, like all sifrei kodesh (holy books), in accordance with an enormous body of laws. Mastery of these laws takes some time and requires scholarship as well as practical ability.
The scroll is generally written in columns of 42 lines, with 245 columns. The writing is done with a quill, which the scribe cuts from the feather of a kosher bird. The whole Torah usually covers about sixty sheets of parchment, and each sheet is sewn to the next with special thread made from tendons. There are 304, 805 letters, and since each letter has to be carefully formed, writing a complete sefer Torah takes, on average, about a year.
The image here is part of my first sefer Torah, taken upon completing the book of Shemot (Exodus). Sifrei Torah are usually mounted on rollers; the scroll in the photograph is not, because it is not finished!
There is more information about the scribe's craft in general, and about sifrei Torah in particular, in the rest of this site.
Jen Taylor Friedman, 2008