Essays, general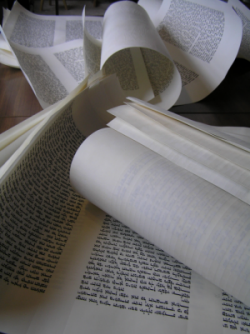 Stuff that didn't fit anywhere else
Holiness
Writing surrounded by Torah - Part 1 and Part 2.
Notes on Torahs in airports - transporting sifrei Torah requires care and attention. Also, notes on breaking shabbat to save Torahs.
Torahs and cruelty to animals
Parchment's made from animals...why not just write on paper? Exploring the ethical alternatives for vegetarians;
Things you really never want to see
coffee rings, lipstick stains, and ghastly blots on Divine Names.
Jen Taylor Friedman, 2009