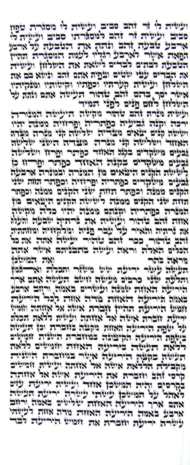 Safrut
What soferim write
A sofer's job is to write the ritual texts used by Jews: the tefillin, which are inserted in little black boxes and worn against the skin; mezuzot, which are affixed to doorposts; sifrei Torah (Torah scrolls) used for ritual reading in the synagogue and also for fulfilment of the separate commandment upon the individual to write himself a Torah; sifrei neviim and megillot (Scrolls from the Prophets and Writings), also used for ritual reading in the synagogue; and gittin, divorce documents.
This is a tradition stretching back for several thousands of years. For the "People of the Book," texts of various kinds are a fundamental part of religious life, whether for communal or personal use. The scribe's craft requires a good deal of calligraphic skill, but no less importantly, a large amount of technical expertise, both practical and theoretical. We would expect no less for the creation of these artefacts, which have been a central focus of our tradition throughout the ages.
The reader is recommended to Mordechai Pinchas' site for an excellent overview of the Jewish scribal arts.
Soferot - female scribes
Women have, by and large, not been part of this tradition. Indeed, the Talmud states unequivocally that if women write sifrei Torah, tefillin, or mezuzot, they are pasul, or unfit for use. Halacha is a dynamic process, changing with the needs of communities, and a very few women in history are said to have been soferot accepted by their contemporaries. Today, there are a very, very few women practising safrut.
What does it mean for a woman to practise safrut if her work is unfit for use? Of course, in the egalitarian movements, her work is not automatically considered unfit for use. It is just very hard for her to get training, and it is more a question of numbers - even though ideologically there is no problem, in actual fact, there are still very few women involved.
Even in the non-egalitarian movements, there is still a conceptual space for women to be soferot. Safrut encompasses many different texts, and not all of these are invalid if written by women. In these cases, using a text written by an observant woman is a powerful gesture, supporting women's involvement in the community, whilst remaining within halachically-defined boundaries.
This site contains an introduction to the issues; some of the main sources in Hebrew and English; a separate page explaining why laws for tefillin are extended to mezuzot and sifrei Torah; non-egalitarian approaches to female scribes; a little bit about egalitarian approaches; an application of same;
Halakha Library
The rules of safrut are summarised, like most halakha, in various compilations of Jewish law. I have translated a few of the absolutely essential ones here, so that the interested layman can obtain some idea of how much studying a sofer has to do before they can even pick up a pen.
This section may also be of use to would-be soferim, in aiding their comprehension of the rabbinic texts. A sofer must know Hebrew; this is one of the rules, and if you don't know Hebrew you should not be writing the sacred scrolls. This being accepted, biblical Hebrew and rabbinic Hebrew are different animals, and rabbinic Hebrew isn't the easiest thing to comprehend; the vocabulary and idiom aren't at all like biblical Hebrew. If you are serious about practising safrut, you should learn to comprehend the originals, but a translation is a helpful tool for learning.