Megillah
Megillot by Jen start at US$1500. Exact price will depend on schedule and degree of ornamentation.



Mezuzah
Mezuzot are available at the Etsy store. Custom sizes are available; if I haven't a particular size listed, do message me and ask.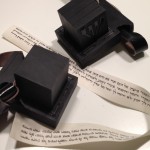 Tefillin
Tefillin are likewise available at the Etsy store.



Torah scrolls
When you commission a Torah, you are employing a skilled artisan to work for you full-time for a whole year. Pricing reflects this.