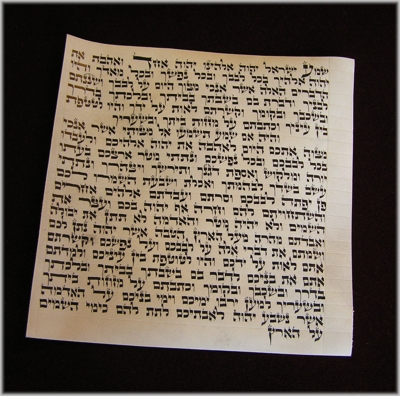 Tefillin and Mezuzah Checking
Tefillin and mezuzot ought to be checked periodically, in case natural processes have rendered the parchments non-kosher.
Problems in tefillin and mezuzot are often rather ambigious. It is easy to look at something ambiguous and say "buy new ones just to be on the safe side," but I consider this unethical. In order to check tefillin and mezuzot properly, one requires a degree of training I do not at present have access to.
I can check your tefillin or mezuzot, but if there is anything I am at all unsure about, I will end up sending them away for expert opinions. So in most cases you might as well cut out the middleman - see the tefillin page for references.
This also means that right now I am not the best person for onsite checking, because the point of onsite checking is to have your things checked while-you-wait, and I'm not enough of an expert to do that. Sorry. I can try and help you find someone local to you, I can provide programming while someone else is doing checking, but the checking itself - not yet. Come back in 2015 or so, hopefully I will be better at it then.