Tefillin Barbie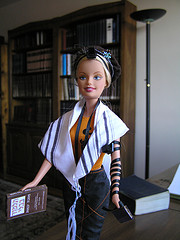 The original Tefillin Barbie
About Tefillin Barbie
Mattel's Halloween Hip Barbie 2006 comes with a lovely frum denim skirt, so she looks like most of my friends. Accordingly, she ought to be wearing tefillin. As well as the tallit (with tekhelet, of course) and tefillin, she has a siddur and a volume of Talmud.
Tefillin Barbie generated an extraordinary amount of feedback. She featured on Jewschool and Jewlicious, on BoingBoing, in the Jewish Journal of Greater Los Angeles, on Ritualwell, Lilith magazine (Winter '06-'07 issue), New Voices, the London Jewish Chronicle, The Jewish Advocate, the Philadelphia Jewish Voice, the New Jersey Jewish News, the Forward, the Jewish Week...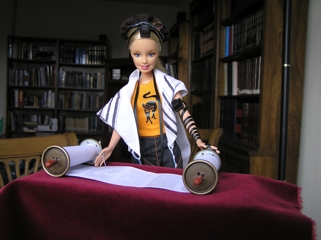 Barbie reads Torah
Comments
Responses ranged from "...seriously disturbing - like watching a car accident...disgusting" to "Finally Barbie has done something I can be proud of!" and "A witty comment on contemporary American Jewish life."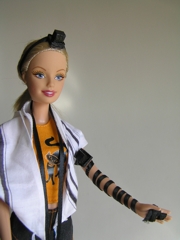 More Tefillin Barbie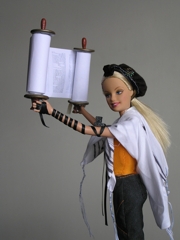 Because women can do hagbah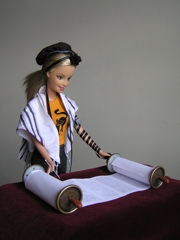 Barbie reads Torah somewhere else
With Talmud and moody lighting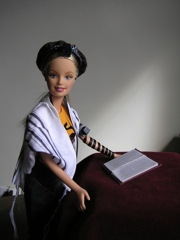 Barbie leading daf-yomi shiur, for all the wailing winnies who didn't like the Steinsaltz. Barbie is hardcore, see? She's taking daf-yomi shiur before minyan starts, telling you that she's sorry you don't get that Tosafot but we don't have time to get into it right now and she'll go through it with you if you can stay afterwards.